FIND US
300 W. Camelback Road | Phoenix, AZ 85013
We are located in Central Phoenix at the northwest corner of 3rd Avenue and Camelback Road, just west of the light rail stop onCentral Ave. & Camelback Road.
BUSINESS DIRECTORY
Changing Hands Bookstore & First Draft Book Bar
Email: inbox@changinghands.com | Phone: 602.274.0067
Southern Rail
Email: info@southernrail.com | Phone/Reservations: 602.200.0085
Southwest Gardener
Email: info@southwestgardener.com | Phone: 602.279.9510
Newton Private Events
Email: events@thenewtonphx.com | Phone: 602.859.5184
Wedding Inquiries
Email: weddings@thenewtonphx.com
PARKING AT THE NEWTON
We have plenty of parking for customers of The Newton's businesses, but occasionally multiple events at each business can cause the immediate lot to fill up. DON'T WORRY! You may also park in our dirt lot just a stone's throw away, or in the public light rail parking lot across the street. Please see the parking map for exact lot locations.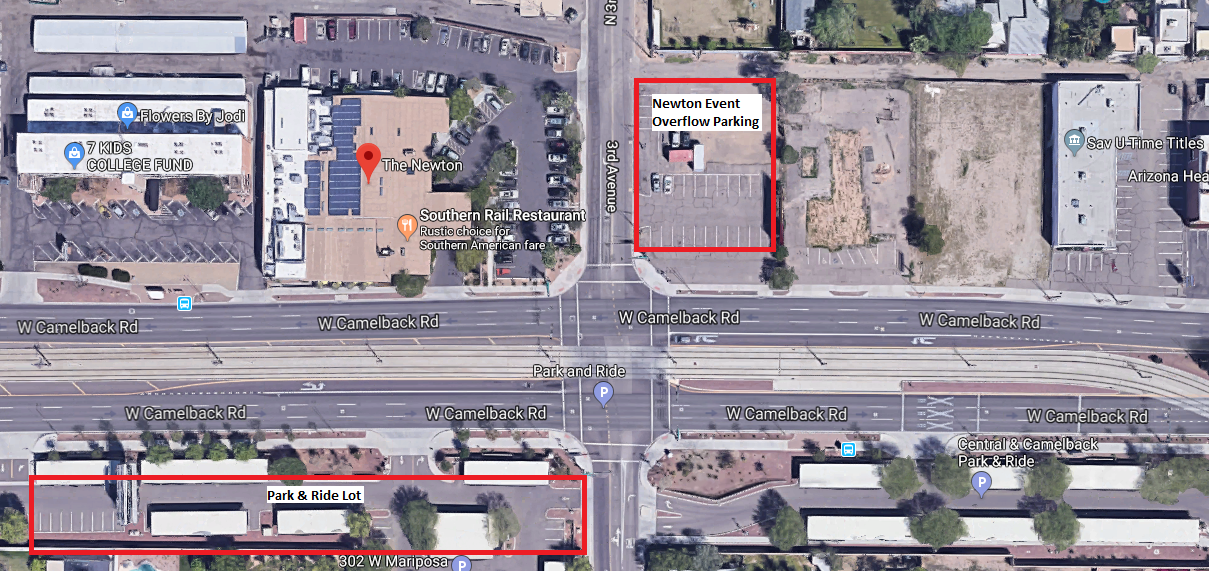 Parking is available in the lot across 3rd avenue to the East, or the covered parking spots across Camelback Road to the South.